Handover Tester MH3800
For improving the efficiency of verification man-hours by quantifying the test environment, long-run (aging) tests, and automating tests.
Optimal configuration to simulate the change of radio wave in air.
lead to quantifying the test environment, long run (aging) test and reduction of the verification time by automating the test.
Enable 8 paths as standard and maximum 64 paths (controls 64 units of MAT 800/810 at once).
Features
It simulates the attenuation process of radio wave in which the communication of mobile terminal transfers from base station A to base station B.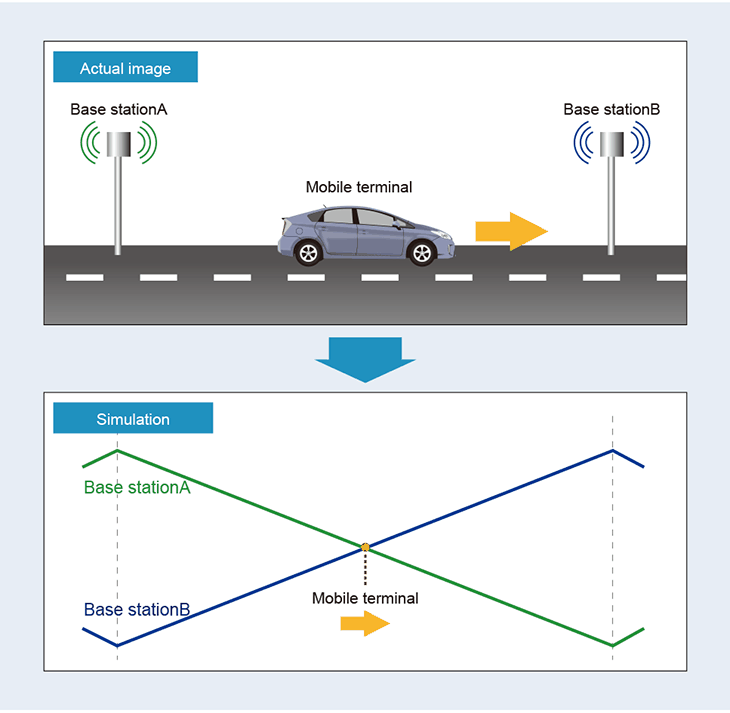 *Since MH3800 only simulates the communication environment, the evaluation of actual communication quality such as throughput measurement and packet capture needs an evaluation software such as iperf and Wireshark.
Handover (handoff) evaluation
The strength of the radio wave when the mobile terminal moves closer or farther towards multiple base stations or access points can be simulated, and then the handover is caused.
The attenuation scenario can be synchronously controlled up to 64 channels.
Fallback operation test (decrease in transmission speed)
The attenuation amount according to the distance to the cell can be switched continuously and without 1/4 interruption.
The high-speed programmable attenuator MAT 800/810 is an electronic variable attenuator and has a very fast switching speed of 2 μs. Therefore it can simulate the transient phenomena such as shadowing.
Long-run (aging) test
By automating the repetitive tests in the same scenario, the efficiency and time of test will be improved.
A continuous durability test in day and night can be also done by uninhabited.
High versatile and scalable system
If it is used within the frequency range from 300 MHz to 12.5 GHz, there is no need to worry about communication standards. The equipment doesn't become obsolete, and also is excellent in versatility and scalability.
*The frequency range depends on which of the six models of MAT 800 A / B / C / D / E and MAT 810 is used.
Simple scenario creation and control
The attenuation data creation & control software MAS 801 enables to create and control scenarios with intuitive operation.
Moreover, the attenuation data during executing scenario can be monitored.
Target market
Cellular phone (2G, GSM, 3G, CDMA, 4G, LTE, WiMAX, 5G and etc.), Wireless LAN, Bluetooth, Zigbee, NFC, RFID, Wi-SUN, UWB, ETC 2.0, DSRC, M2M, Sensor, Wearable, Satellite communication and etc.
Applied frequency : 300MHz to 12.5GHz (depend on the model of programmable attenuator)
System configuration example
Handover in two paths of the wireless LAN (two access points and one client)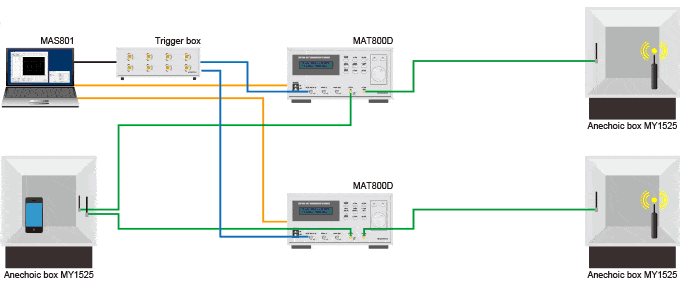 High-speed programmable attenuator
Model
Frequency range
Maximum Attenuation
Maximuminput
MAT800A
1.5 to 4.5GHz
80dB
100mW
 (+20dBm)
  *P1dB
MAT800B
3.0 to 9.0GHz
MAT800C
4.5 to 12.5GHz
MAT800D
1.95 to 5.85GHz
MAT800E
0.75 to 2.25GHz
MAT810
0.3 to 6.6GHz
60dB
25mW
 (+14dBm)
 *P2dB
Compact shielding box
| Model | Outside Dimensions(W,H,D mm) | Inside Dimensions(W,H,D mm) | Shielding Characteristics(typ) | Note |
| --- | --- | --- | --- | --- |
| MY1510 | 380 x 165 x 380 | 315 x 100 x 315 | 70dB typ@2.4GHz | |
| MY1515 | 465 x 214 x 465 | 400 x 150 x 400 | 70dB typ@2.4GHz | with fan |
| MY1520 | 520 x 520 x 520 | 460 x 460 x 460 | 70dB typ@2.4GHz | |
| MY1520SW | 520 x 520 x 520 | 460 x 460 x 460 | 70dB typ@2.4GHz | with shield window |
| MY1525 | 460 x 570 x 582 | 340 x 340 x 400 | 90dB typ@2.4GHz | with fan |
| MY1530 | 1120 x 705 x 620 | 1000 x 500 x 500 | 70dB typ@2.4GHz | |
Library
Products Catalog
Technical report