High-Speed Programmable Attenuator MAT800 Series
Multi-function programmable attenuator which can switch the attenuation by ultra high-speed (2μs). Maximum attenuation 80dB.
You can attenuation control at ultra-high speed.
Multi-functional and authentic programmable attenuator.
All models are electronic attenuators.
Features
The arbitrary attenuation programs is possible.
Two methods are available for setup of attenuation, manual or program.
128kwords built-in program memory.
Maximum 2μs switching (readout) speed.
Three readout modes of FREE, BURST and GATE.
Setup of hold off period by the number of clocks or by time.
The software for making attenuation program is a standard accessory.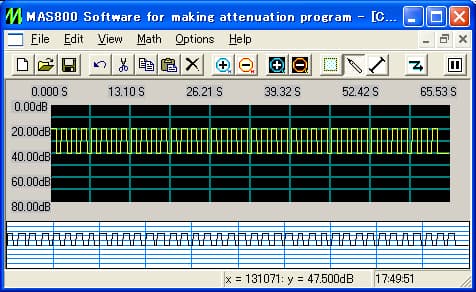 Software for making attenuation program MAS800 (Standard accessory)
Waveform creation
The nine types of standard waveforms are prepared like sine wave and triangle wave.
A waveform is created by straight line input, arithmetic calculation input(addition, subtraction, clipping, offset and etc), one-point input and freehand line input by a mouse.
Waveform editing and file management
Waveform editing and file management may be performed using CUT, COPY, PASTE and UNDO.
Model
Frequency range
Attenuation
Input Power
(1dB compression)
type
Maximum
Resolution
MAT800-A
1.5 to 4.5GHz
80dB
0.05dB
100mW
High-Speed Programmable Attenuator
MAT800-B
3.0 to 9.0GHz
MAT800-C
4.5 to 12.5GHz
MAT800-D
1.95 to 5.85GHz
MAT800-E
750MHz to 2.25GHz
MaximumAttenuation80dB
The minimum step size of attenuation is 0.05dB.
Correspondence table
Application
MAT800
A
B
C
D
E
Cellular phone1
(JPN/USA)
W-CDMA
 
 
 
HSDAPA
 
 
 
HSPA+
 
 
 
LTE
 
 
 
Cellular phone2
(JPN/USA)
cdma
 
 
 
 
cdma2000
 
 
 
Cellular phone3
(EUR/ASIA)
GSM
 
 
 
GPRS
 
 
 
EDGE
 
 
 
1xEV-D0
 
 
 
PHS
(JPN/ASIA)
 
 
 
Wireless LAN
2.4GHz
11/11b/11g/11n
 
 
 
5GHz
11a/11n
 
 
UWB
3.4 to 4.8GHz
@JPN
 
 
 
 
7.25 to 10.25GHz
@JPN
 
 
 
 
3.1 to 10.6GHz
@USA
 
 
 
 
Bluetooth
 
 
 
 
ZigBee
 
 
 
 
WiMAX・Mobil WiMAX
2.5GHz
 
 
 
3.5GHz
 
 
5.8GHz
 
 
GPS
1.57542GHz
 
 
 
RF-ID
900MHz
 
 
 
 
2.5GHz
 
 
 
 
ETC/DSRC
 
 
 
BS/CS
Digital broadcasting
Antenna
Reception Frequency
11.72748 to 13GHz
 
 
 
 
Converter
Intermediate Frequency
1.04 to 2.03GHz
( Output VSWR : less than 2.0 )
 
 
 
 
Library
Products Catalog
Technical report