ETC / ITS Spot Electric Field Strength Measurement System ME9200C
This system measures the electric field strength distribution of ETC / ITS spots with operating waves or CW in a short time and create electric field strength graphs and map diagrams.This is an upgraded version of the conventional ME9200.※Only for Japanese domestic specifications.
Measurement with a cart is possible, and the price of the ETC measurement system (9 antennas) is inexpensive.
The electric field strength distribution of the roadside machine installed at the ETC gate of the highway is measured accurately in a short time by CW and operation wave.
As an option, the electric field strength measurement function of the ITS spot can be added.
System overview
When 9 antennas are attached to the cart type, the 3.2m wide lane can be measured twice.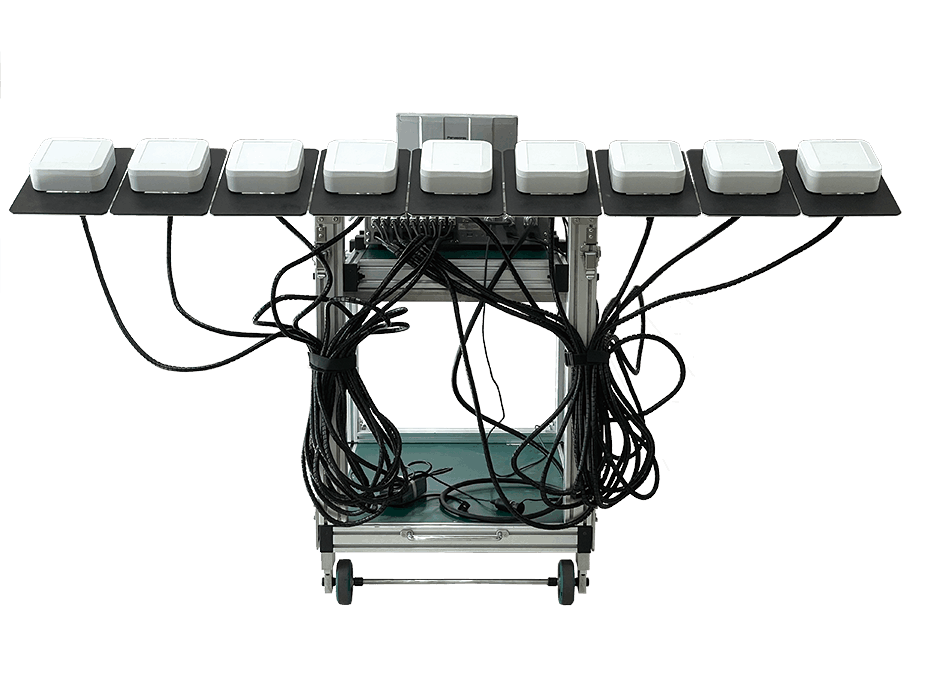 Comparison with the conventional ME9200

Conventional type:ME9200

ME9200C
The integrated rear radio wave absorber reduces variations in electric field strength due to reflection.
Since the antenna unit can be directly attached to the antenna fixing bar, the measurement preparation man-hours are reduced.
ME9200 and ME9200C installation comparison.
※The control unit and software are the same.
System composition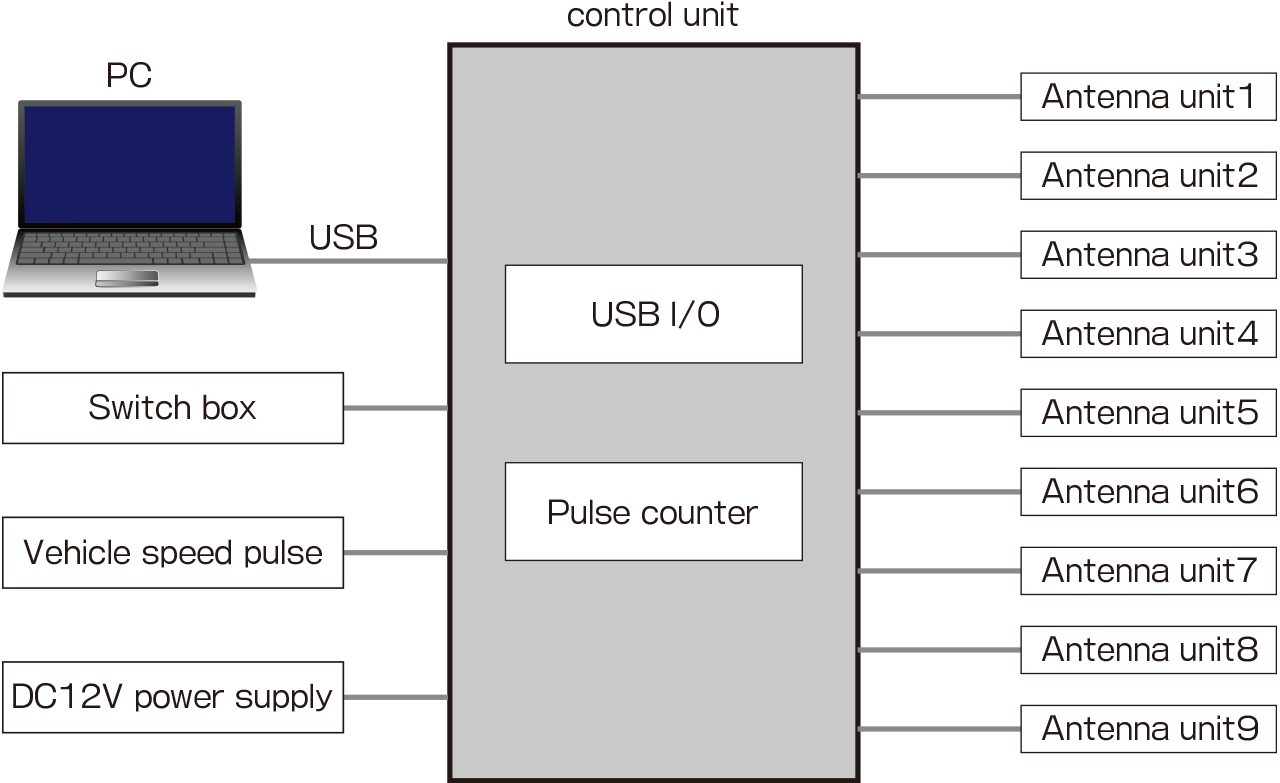 System
| | ETC | ITS | Vehicle-mounted | Cart | Antenna |
| --- | --- | --- | --- | --- | --- |
| S11 | 〇 | | | 〇 | 9 |
| S12 | 〇 | 〇 | | 〇 | 9 |
○ mark is included in the system

Standard specifications
Antenna

The standard is 9 pieces, and 3.2m wide lanes can be measured twice.≪Antenna spacing 20 cm≫.

External dimensions:195(W)×105(D)×300(H)mm(excluding protrusions)
Cart

Equipped with a speed sensor, the measured distance is calculated automatically.
With 9 antennas installed, 3.2m wide lanes can be measured twice.

External dimensions:700(W)×1000(D)×350(H)mm(when folded)
External dimensions:700(W)×1000(D)×900(H)mm(when assembled)
Control Unit

It has a start SW and a SW that adjusts the zero point at the roadside machine position.
Requires DC12V or AC100V power supply. An AC/DC converter is included as standard.

External dimensions:430(W)×450(D)×101(H)mm(excluding protrusions)
PC Software

It controls the control unit and immediately displays the measured electric field strength value in a graph or map diagram.
Electric field strength measurement example
The ME9200 software running on a PC controls the control unit to perform measurements, and automatically collects, analyzes, and displays data.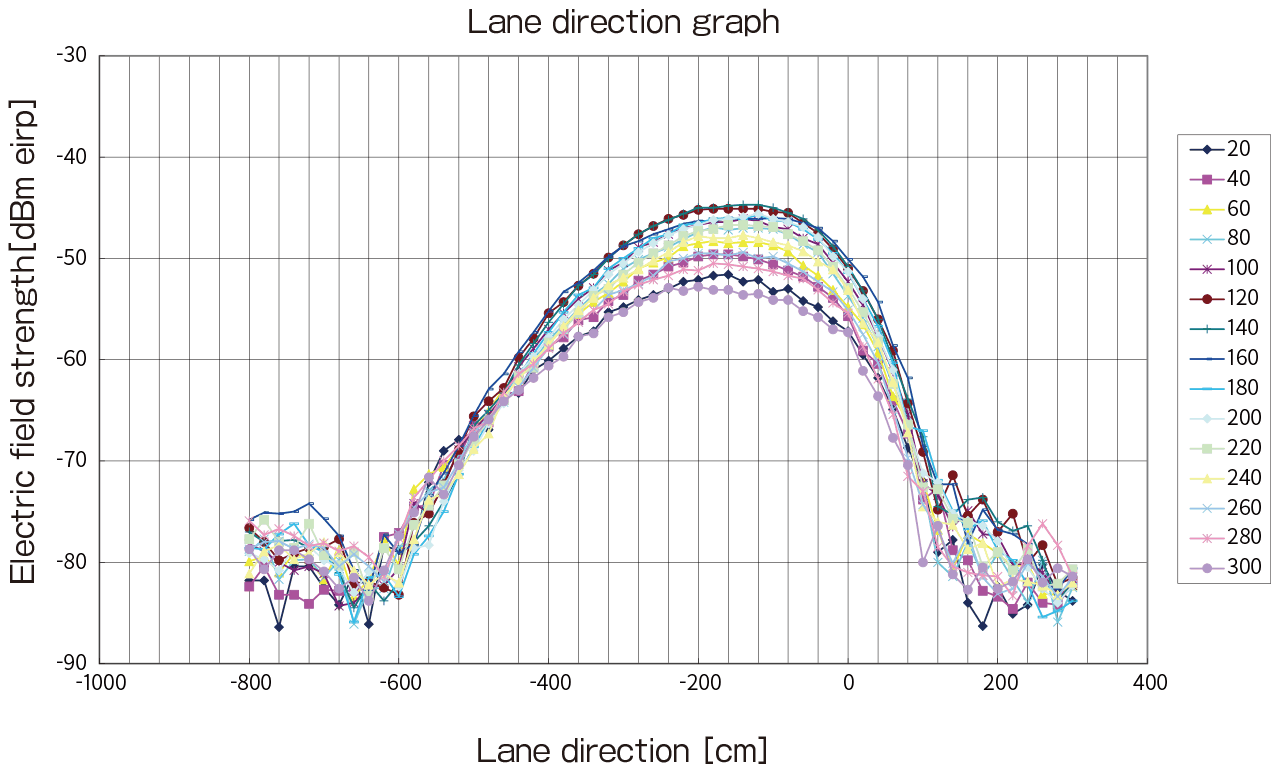 ※Customization such as vihicle- mounted will be discussed separately.
※CW:Continuous Wave
Option
| Product name | Description |
| --- | --- |
| Trunk for antenna unit | A trunk for storing 9 antenna units and a switch box. Useful for storage and transportation. |
| Trunk for control unit | A trunk for storing the control unit and cables. Useful for storage and transportation. |
| Laptop for control | Includes software installation work for 15.6-inch LCD, Windows10 Home, Excel2019, ME9200. |
| Two-wave simultaneous measurement function | It is a function that measures the specified two frequencies at the same time in one run. |
Library
Products Catalog
Technical report
関連製品